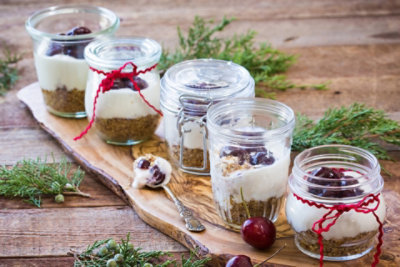 Sweet Cherry Pecan Mason Jar Cheesecakes
This healthy spin on a cheesecake is like holiday in a jar! These are great for a small, intimate party, when you want to impress with something unique, but deliciously irresistible. Can be made ahead and kept in the refrigerator - the flavor will only get better. It's a perfectly-portioned holiday sweet treat. 
* Estimated price based on adding all ingredients to cart.
Main Ingredients
3/4 cup chopped pecans (toasted)
1/2 cup toasted wheat germ
6 1/2 tablespoons O Organics™ Turbinado Sugar (or raw sugar) (divided)
1 tablespoon O Organics™ Coconut Oil (melted)
2 cups Open Nature™ Greek Yogurt
1/2 cup Neufchatel cream cheese
1 teaspoon pure almond extract
1 (12 ounce) bag frozen unsweetened dark sweet cherries
Cooking Instructions
Step 1
In a saucepan over medium heat, add bag of dark sweet cherries & 2 tablespoons raw sugar. Let cook, stringing occasionally, until most of the juices reduce, about 15 minutes. 
Step 2
In a medium bowl, combine pecans, wheat germ, melted coconut oil, and 1 1/2 tablespoons raw sugar. Stir. Equally divide the pecan crust among 4 jars, pressing it into the bottom. 
Step 3
In another bowl, beat yogurt, cream cheese, 3 tablespoons raw sugar and extract together. Equally divide mixture amount between the 4 jars. 
Step 4
Let cherries completely cool (refrigerate to speed up process). Then divide cherry topping among the four jars as the final layer. Refrigerate jars until ready to serve! 
All recipe ingredients should be cooked to a safe internal temperature according to USDA guidelines. After preparing a recipe, please store any leftovers in the refrigerator.