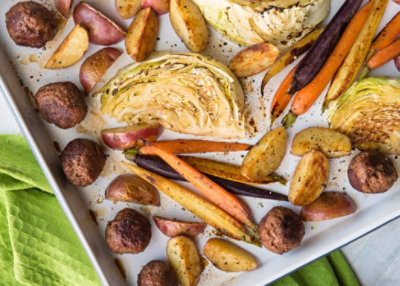 Sheet Pan Corned Beef Meatballs and Cabbage
Looking for a sure-fire way to impress this St. Patrick's Day? You can't go wrong with this classic Irish corned beef and cabbage dish. Spice up your entree with a dash of grainy mustard to make your guests green with envy!
* Estimated price based on adding all ingredients to cart.
Main Ingredients
2 tablespoons panko bread crumbs
2 tablespoons milk
8 ounces corned beef, diced into 1/2-inch pieces
8 ounces 85/15 ground beef
1 egg
1 tablespoon Dijon mustard
1 small cabbage, cut into 8 wedges
4 carrots, cut in half and then into 4-inch pieces
12 small red potatoes, quartered
2 tablespoons extra virgin olive oil
1/2 teaspoon kosher salt
1/4 teaspoon black pepper
Cooking Instructions
Step 1
Preheat oven to 400°. Combine panko and milk in a small bowl. Set aside. Place corned beef in a food processor and pulse until finely shredded. Add ground beef, panic mixture, egg and Dijon mustard. Pulse until combined.
Step 2
Place cabbage, carrots and potatoes on a rimmed baking sheet sprayed with non-stick spray. Drizzle with olive oil, salt and pepper. Toss lightly to combine and arrange in the middle of the baking sheet, leaving about 1 inch on the edges of the pan.
Step 3
Using a 1 ½-inch cookie scoop, make meatballs and place on the edge of the baking sheet. Bake in oven for 20-25 minutes, until meatballs reach an internal temperature of 160° and the potatoes are fork tender. Serve.
Step 4 :: Helpful suggestions
Buy a piece of corned beef from the deli section of the store, then cut into cubes.
Step 5
Serve the meatballs with any type of mustard for dipping.
All recipe ingredients should be cooked to a safe internal temperature according to USDA guidelines. After preparing a recipe, please store any leftovers in the refrigerator.