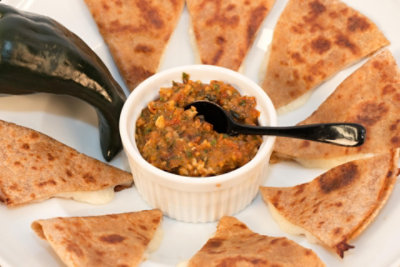 Roasted Garlic & Tomato Salsa
You will be amazed how great this salsa tastes and how easy it is to make! Pasilla pepper, cherry tomatoes, onions and oodles of garlic cloves are roasted together under the broiler then poured into a food processor. The result is a smoky salsa/sauce that compliments any Mexican-style dish.
* Estimated price based on adding all ingredients to cart.
Main Ingredients
10 ounces cherry tomatoes (about 2 cups)
1 medium sweet onion (outer two layers removed and cut into 16 wedges)
1/3-1/2 cup garlic cloves (peeled) (about 40 cloves (available in re-sealable bags in produce))
1 Pasilla pepper (quartered and seeded)
2 tablespoons canola oil
1/2 teaspoon salt
1/2 teaspoon ground cumin
1/4 cup cilantro leaves
1 tablespoon lime juice
1 tablespoon extra-virgin olive oil
Cooking Instructions
Step 1
Preheat the broiler and set oven rack about 6 inches beneath the heating element. Line a rimmed baking sheet with aluminum foil. Place the tomatoes, onions, garlic cloves, and Pasilla peppers directly on the prepared baking sheet and drizzle canola oil over the top. Use your clean hands to distribute the oil over all of the ingredients. Broil 15 minutes then remove pan to flip peppers over and toss the other ingredients. Broil 10 minutes more.
Step 2
Lift the foil from pan and fold the foil to pour all of the ingredients and the juices into a food processor (if you don't have a food processor, pour ingredients into a flat bottom bowl and use a food chopper). Add the remaining ingredients and pulse until desired chunkiness. Add more salt and lime juice to taste if desired.
Step 3
Serve immediately or cover and refrigerate until needed.
All recipe ingredients should be cooked to a safe internal temperature according to USDA guidelines. After preparing a recipe, please store any leftovers in the refrigerator.