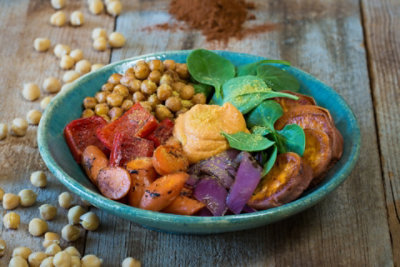 Roasted Chickpea Bowl
This delicious vegetarian bowl provides you with protein, fiber and potassium.
* Estimated price based on adding all ingredients to cart.
Main Ingredients
1 cup O Organics™ chickpeas (drained, rinsed & dried)
1 teaspoon O Organics™ chilipowder
1/2 cup carrots sliced on the bias (this just means diagonally)
1/2 large red onion (cut into slices on bias)
1 small red bell pepper (roughly chopped into bite-sized chunks)
1 small sweet potato (washed but not peeled, sliced into 1/2 inch rounds)
2 cups fresh O Organics™ spinach
1/4 cup roasted red pepper hummus
to sprinkle on top
2 teaspoons nutritional yeast
Cooking Instructions
Step 1
Preheat the oven to 425º. Give a light coating of olive oil cooking spray to a large baking sheet. Add sliced sweet potatoes to one side of the baking sheet in a single layer. Drizzle them with a little olive oil and sprinkle each with sea salt. Place in oven. (You will be adding the other ingredients in sections on the baking sheet, so just hang tight!) 
Step 2
After 5 minutes, remove baking sheet and add the red onion, bell pepper, and carrots to one side, giving them a light toss with 1/2 teaspoon of olive oil and a sprinkle of sea salt. Spread them into a single layer and put the baking sheet back in the oven and continue roasting the veggies . 
Step 3
After another 5 minutes (you're almost there!), add chick peas to the final side of the baking sheet. Carefully drizzle them with 1/2 teaspoon olive oil and sprinkle chili powder, tossing around with a tong to get them all coated. Roast everything for 10 more minutes. The chickpeas should get a good light brown color on them. 
Step 4
To build two bowls, add half the ingredients around each bowl: roasted chickpeas, slices of sweet potatoes, carrot/onion/pepper mixture, and then fresh spinach. Put a scoop of 2 tablespoons of hummus in the middle of each bowl. Sprinkle the top with nutritional yeast. 
All recipe ingredients should be cooked to a safe internal temperature according to USDA guidelines. After preparing a recipe, please store any leftovers in the refrigerator.