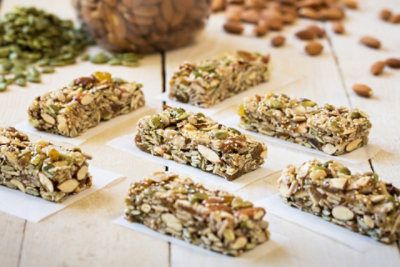 Nature Bars
Embrace Mother Nature with these tasty and protein packed Nature Bars! With almonds, pumpkin seeds, raisins, sunflower seeds and so much more, there bars are perfect for a quick morning bite or an afternoon snack.
Total original price
* Estimated price based on adding all ingredients to cart.
Main Ingredients
1/2 cup whole almonds
1/2 cup sliced almonds
1/2 cup raw pumpkin seeds
1/2 cup O Organics™ shredded coconut
1/3 cup sunflower seeds
1/3 cup golden raisins
2 tablespoons O Organics™ uncooked quinoa
1/2 teaspoon O Organics™ ground cinnamon
1/2 cup O Organics™ honey
2 tablespoons ground flaxseed
1 heaping tablespoon almond butter
Cooking Instructions
Step 1
Line an 8x8 pan with parchment paper. In a medium bowl, add whole and sliced almonds, pumpkin seeds, shredded coconut, sunflower seeds, golden raisins, uncooked quinoa and cinnamon. Stir once. 
Step 2
In a small saucepan over medium heat, bring honey to a boil while stirring. Boil honey for 2 minutes, constantly stirring. Immediately turn off heat and remove the saucepan from the heat. Stir in ground flaxseed and almond butter. Once honey mixture is smooth, pour over the nut mixture, stirring very quickly and using a spatula to scape the saucepan clean. Work quickly to coat the nuts in the honey-flaxseed mixture. Pour mixture into the 8x8 pan lined with parchment. Press the nut mixture down as evenly as you can. (It helps to coat your fingers with nonstick spray or coconut oil in order to pat the mixture down easily). 
Step 3
Put the pan in the refrigerator for 20 minutes, then remove and cut into bars. Store bars in refrigerator.
All recipe ingredients should be cooked to a safe internal temperature according to USDA guidelines. After preparing a recipe, please store any leftovers in the refrigerator.