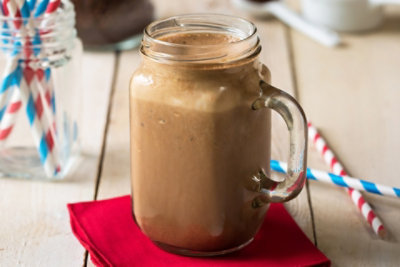 Mochaccino Recovery Shake
If you blend the dry ingredients ahead of time and have them in snack size re-sealable bags, you can whip up this post workout recovery shake in no time. It is very low in fat so the carbs and amino acids from the protein will get into your bloodstream quickly (and will therefore get into your muscles for recovery)! This is an awesome alternative to using commercial protein shake products, many of which have alternative sweeteners added and cost a lot more. This shake will also help replenish your main electrolytes; sodium and potassium.
* Estimated price based on adding all ingredients to cart.
Main Ingredients
2 tablespoons Signature Kitchens nonfat dry milk powder
1 tablespoon unsweetened cocoa powder
2 tablespoons powdered sugar
1 tablespoon Signature Kitchens Decaffeinated Instant Coffee Crystals (If you would prefer some caffeine in your shake, use the regular coffee crystals)
Pinch of ground cinnamon (optional)
1 cup nonfat milk (1% milk can be substituted)
1/2 cup crushed ice (or 3/4 cup cubed ice)
Cooking Instructions
Step 1
Add first 4 ingredients (plus cinnamon if desired) to a 2-cup measure (or similar) and blend well with fork or whisk.
Step 2
Pour milk and ice into blender then pour in the cocoa coffee powder mixture. Pulse to blend thoroughly. Pour into a tall glass and enjoy!
All recipe ingredients should be cooked to a safe internal temperature according to USDA guidelines. After preparing a recipe, please store any leftovers in the refrigerator.