(
0

items in your cart
)
total price:

$0.00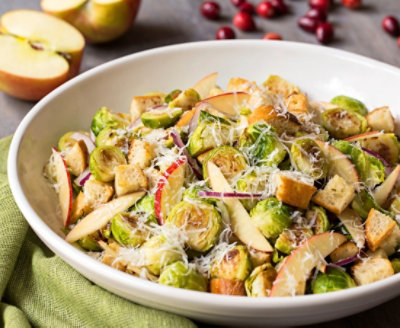 Winter Cranberry & Brussels Sprouts Bread Salad
This seasonal salad is bursting with flavor! Crusty, toasted bread is cubed and brushed with oil and seasoned with herbs. Roasted Brussels sprouts are tossed with apple, red onion and cranberry dressing for this perfect wintery salad!
Main Ingredients
4 cups crusty bread, cut into 1-inch cubes

1/2 teaspoon dried basil

1/2 teaspoon kosher salt, divided

1/2 teaspoon garlic powder

1/2 cup olive oil, divided

4 cups O Organics® Brussels Sprouts, cut in half

1 tart apple, thinly-sliced

1/2 cup red onion, thinly-sliced

1 cup grated Pecorino Romano cheese
Dressing
1 cup O Organics® jellied cranberry sauce

2 Table spoon pure maple syrup

1/4 cup red wine vinegar

1/2 cup extra-virgin olive oil
Cooking Steps
1. Preheat oven to 450 °. Toss bread cubes with 1/4 cup olive oil on a rimmed baking sheet. Season with 1/4 teaspoon salt, basil and garlic powder. Toast in oven for 7-8 minutes. Remove from sheet and set aside.
2. On a rimmed baking sheet, toss Brussels sprouts with remaining olive oil and salt. Roast for 10 minutes, until caramelized and tender. Remove from oven and set aside
3. Add cranberry sauce, maple syrup and vinegar to a blender. Blend on high for 15 seconds, then slowly add olive oil until fully incorporated.
4. In a large bowl, toss to combine bread, Brussels sprouts, apple, and red onion with dressing. Sprinkle with cheese. Serve immediately.
Helpful suggestions
5. For extra crunch, add toasted pecans or walnut to this salad.
6. Apple cider vinegar or balsamic vinegar can be used in place of the red wine vinegar.
All recipe ingredients should be cooked to a safe internal temperature according to USDA guidelines. After preparing a recipe, please store any leftovers in the refrigerator.