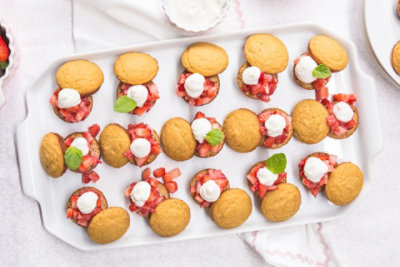 Strawberry Baby Cakes
Made with coconut flour, honey, Greek yogurt, and strawberries, these delicious, cute baby cakes are perfect to enjoy for dessert or a brunch treat!
* Estimated price based on adding all ingredients to cart.
Main Ingredients
5 O Organics® eggs
3 O Organics® egg whites
1/2 cup O Organics® honey
1 Tbs vanilla extract
1 tsp almond extract
1/4 cup coconut oil (melted)
1/2 cup coconut flour
1/2 tsp baking soda
16 oz ripe strawberries (cleaned and diced)
1 ½ cup vanilla Greek yogurt
non-stick cooking spray
Cooking Instructions
Step 1
Preheat oven to 375°.
Step 2
In a medium bowl, beat eggs and egg whites for one minute with a whisk. Whisk in honey and extracts. Melt coconut oil and ensure it has cooled to room temperature, then slowly pour it into the batter, whisking vigorously.
Step 3
Sprinkle coconut flour and baking soda over batter mixture. Stir together until evenly incorporated. Mixture will seem liquid in consistency at first but will get thicker.
Step 4
Divide batter among 24 mini-muffin tins sprayed with non-stick cooking spray. Bake for 12-14 minutes, or until the muffins are completely set on top and no longer glossy. Remove muffins and let cool completely.
Step 5
In a small bowl, mash half of the diced strawberries with the back of a fork.
Step 6
To make the babycakes, remove muffins from pan (if they are difficult to remove, run a butter knife around the edges— muffins should come out easily). Using a serrated knife, carefully slice the muffin tops off. On the muffin base, add a teaspoon of the mashed strawberries. Then scoop two teaspoons of thick Greek yogurt on top. Carefully place muffin top back on, and put a dollop (about a teaspoon) of Greek yogurt on the very top. Sprinkle with a few of the diced strawberries. Use the remaining diced strawberries to decorate the serving tray. Serve and enjoy!
All recipe ingredients should be cooked to a safe internal temperature according to USDA guidelines. After preparing a recipe, please store any leftovers in the refrigerator.