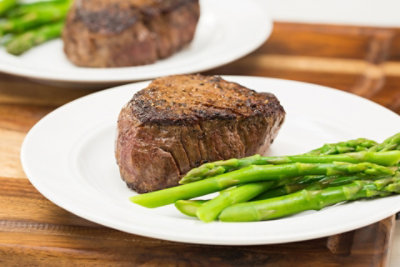 Fast & Simple Filet Mignon
Don't forget to let the meat rest after cooking! The added time will allow the natural juices to redistribute and will make your steak tender, juicy and flavorful!
* Estimated price based on adding all ingredients to cart.
Main Ingredients
2 1 1/2-inch thick filet mignon steaks
1 tsp kosher salt
1/2 tsp coarse-ground black pepper
1 Tbs unsalted sweet cream butter
1 Tbs extra-virgin olive oil
Cooking Instructions
Step 1
Let steaks rest on counter 20 minutes. Season with salt and pepper.
Step 2
Preheat oven to 425°. Heat sauté pan over medium-high heat. Add butter and oil. Add steaks and sear each side for 2 minutes. Place in oven for about 5 minutes for medium rare (until internal temperature reaches 130°). Remove from oven and let rest 5 minutes tented with foil on a platter. Serve.
All recipe ingredients should be cooked to a safe internal temperature according to USDA guidelines. After preparing a recipe, please store any leftovers in the refrigerator.