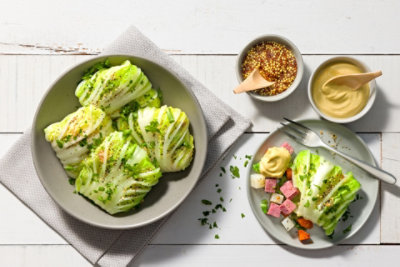 Corned Beef Rolls
St. Patrick's Day-inspired
Total original price
* Estimated price based on adding all ingredients to cart.
Main Ingredients
4 lbs cooked corned beef (diced 1/2-inch)
1 large head of Napa cabbage
1 large white or yellow onion (diced 1/2-inch thick)
1/2 lb carrot sticks (diced 1/2-inch thick)
1 lb 1/2-inch diced potatoes
Cooking Instructions
Step 1
Bring 1 gallon of water to a boil, then add corned beef. Pull 8 full leaves off head of cabbage and place, one leaf at a time, into boiling water for 30 seconds apiece, then pull out and cool – repeat until all leaves are cooked. Slice the remaining cabbage 1/4-inch thick.
Step 2
Add potatoes, cook 5 minutes; then add carrots and onions, boil for 10 minutes, then add the cabbage and turn off the burner. Strain the cooked mixture and set aside in bowl, letting cool 15 minutes at room temperature. Keep liquid in the pot to simmer. Make 8 small stacks of cooked mixture.
Step 3
In a casserole dish, take 1 cabbage leaf and add 1 stack of mixture, roll like a burrito and place in casserole dish— continue until all are rolled. Add boiling liquid to the casserole dish until 3/4 of the cabbage rolls are covered.
Step 4
Place dish of cabbage rolls in oven at 350°, cook for 5 minutes and serve.
Step 5
Optional: serve with whole seed and Dijon mustard in bowls as a condiment.
All recipe ingredients should be cooked to a safe internal temperature according to USDA guidelines. After preparing a recipe, please store any leftovers in the refrigerator.