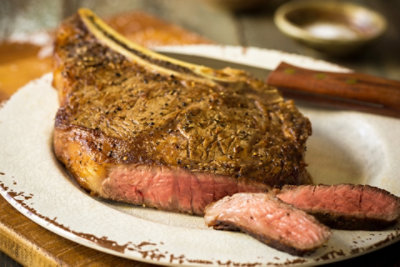 Cast Iron Ribeye
Ribeye steak is the perfect dish for family fall dinners! Just season with olive oil, salt and pepper for a simple, quick approach to a hearty, delicious meal.
* Estimated price based on adding all ingredients to cart.
Main Ingredients
1-1 1/2 inch bone-in ribeye beef steak
1 teaspoon vegetable oil
1/2 teaspoon kosher salt
1/4 teaspoon black pepper
Cooking Instructions
Step 1
Place 12-inch cast-iron skillet in the oven and heat the oven to 500º. Let steak rest on counter for 10-15 minutes.
Step 2
When the oven reaches 500º, remove the skillet and place on stove top over high heat for 3-4 minutes. Rub steak with oil and sprinkle both sides with salt and pepper.
Step 3
Place the steak in the middle of the skillet. Cook 30 seconds. Flip steak and cook another 30 seconds. Place pan in the oven for 3 minutes. Flip the steak and cook for additional 3-4 minutes (3 minutes for medium-rare, 4 minutes for medium).
Step 4
Place the steak on a plate and cover loosely with aluminum foil. Let rest for 3-4 minutes. Serve.
All recipe ingredients should be cooked to a safe internal temperature according to USDA guidelines. After preparing a recipe, please store any leftovers in the refrigerator.