(
0

items in your cart
)
total price:

$0.00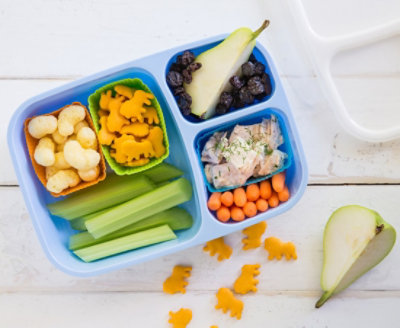 Safari Bento Box
Try this safari-inspired bento box! Create an easy, delicious and perfectly portioned lunch made with cheddar flavored animal crackers, tuna salad, fruit and veggies.
Main Ingredients
1 oz O Organics® cheddar lions

2 oz tuna

1 Tablespoon mayonnaise

1/4 teaspoon dill

pinch of sea salt

pinch of ground black pepper

1/4 cup celery sticks

1/4 cup baby carrots

1 dill pickle

1/2 pear

2 Tablespoons raisins
Cooking Steps
1. In a small container mix to combine tuna, mayonnaise, dill, salt and pepper. Assemble all remaining ingredients into container/containers. Refrigerate until ready to eat.
Helpful suggestions
2. Pack your lunch the night before to save time in the morning.
3. Not a fan of tuna? Substitute chicken in this bento box.
4. To prevent browning, soak the pear in a bit of lemon water.
All recipe ingredients should be cooked to a safe internal temperature according to USDA guidelines. After preparing a recipe, please store any leftovers in the refrigerator.