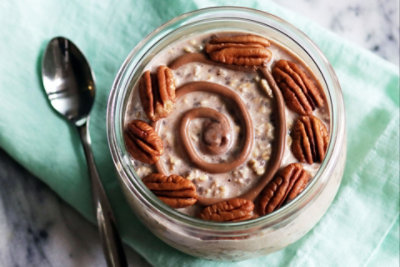 Chocolate Cinnamon Roll Overnight Oats
This yummy, non-dairy overnight oat recipe was inspired by the idea of cinnamon rolls with a touch of chocolate. For a quick alternative to the chocolate swirl mixture below, just use chocolate syrup if desired.
Total original price
* Estimated price based on adding all ingredients to cart.
Main
1 cup O Organics® old fashioned oats
2 tablespoons ground flaxseed or chia seeds
4 teaspoons O Organics® maple syrup
1 teaspoon ground cinnamon
1 1/2 cups unsweetened Silk vanilla soy milk
Chocolate Swirl
1/4 cup almond cream cheese substitute (or similar)
2 teaspoons unsweetened cocoa
1/4 teaspoon vanilla extract
2 teaspoons powdered sugar
Optional Garnish
mini semi-sweet chocolate chips
toasted pecans
Cooking Instructions
Step 1
Add 1/2 cup of oats and 1 tablespoon ground flaxseed or chia seeds to one serving cup or jar, then repeat with remaining oats and flaxseed or chia in a second serving cup.
Step 2
In a 2-cup measure (or similar), blend maple syrup and cinnamon together, then pour in the SILK vanilla soy milk and stir to blend.
Step 3
Pour half of the mixture into each of the cups with the oats. Cover and place in refrigerator overnight.
Step 4
If desired, in a small dish, blend almond cream cheese substitute with cocoa, vanilla and powdered sugar together with a small spoon. If using later, cover and store in the refrigerator until needed.
Step 5
When ready to enjoy the overnight oats, spoon the chocolate swirl mixture into a piping tool and add a swirl to the top of each of the cups/ jars. Garnish with toasted pecans or semi-sweet chocolate chips, if desired. Enjoy!
Step 6 :: Helpful Hints
Chocolate syrup can be used instead of the optional chocolate swirl, if desired.
All recipe ingredients should be cooked to a safe internal temperature according to USDA guidelines. After preparing a recipe, please store any leftovers in the refrigerator.