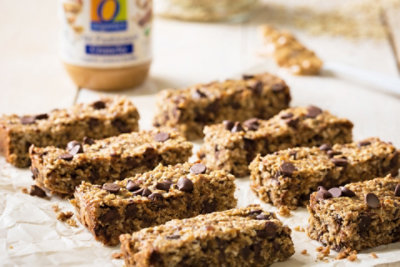 Baked PB Oatmeal Bars
Nothing is better than Peanut Butter and Chocolate! Give these Baked PB Oatmeal Bars a try for a tasty treat that will give your day the little hint of sweetness it needs.
* Estimated price based on adding all ingredients to cart.
Main Ingredients
1 cup soft dates (this is about 14 - 16 dates)
1/2 cup O Organics™ old fashioned crunchy peanut butter
1 egg
1/2 cup unsweetened coconut milk (from a carton)
1/2 teaspoon kosher salt
1 1/2 cup quick cooking oats
1/2 cup dark chocolate chips
Cooking Instructions
Step 1
Preheat oven to 350º. Spray an 8x8 pan with nonstick cooking spray (or, line it with parchment paper). 
Step 2
In a food processor, add dates (make sure there are no pits). Process until dates are chopped into small pieces. (this will take about 20 seconds). Add egg, coconut milk and salt, and process again until creamy. Use a spatula to scrape down the sides of the food processor and make sure everything gets incorporated. Add peanut butter and blend/process only for a second. 
Step 3
Pour mixture into a bowl (scraping down the sides of the food processor again, so you make sure you get everything), and add quick oats and chocolate chips. Stir until everything is evenly mixed together. 
Step 4
Spread mixture into the pan, and spread evenly with a spatula. Bake for 30 - 35 minutes. Remove and let fully cool, then cut into 12 bars. Store in an airtight container. 
All recipe ingredients should be cooked to a safe internal temperature according to USDA guidelines. After preparing a recipe, please store any leftovers in the refrigerator.